Mesh Partitioning - what difference can it make to your business?
Warehouse operations are very complex and managing one efficiently, with speedy order fulfilment in mind, requires a lot of attention to details. It's not just about investing in the right type of shelving and racking or getting the best configuration, but also about ensuring a safe workplace, which is where mesh partitioning comes into play. Although many people seem to overlook this aspect when it comes to optimising commercial premises, partitioning can make a great difference, not just in providing sectional space, but also in ensuring security of work areas.
There are many variations of partitioning as to suit different environments and different applications, but generally it can be divided into two main categories: mesh and steel partitioning, each with its own series of best uses. Apart from its high versatility, partitioning also has the advantage of being inexpensive, cost reduction always being an important goal of warehouse operations.
Why?
Where can you use mesh and steel partitioning?
The difference between mesh partitioning and steel partitioning is a functional one. The first is mainly used for safety and protection purposes, while the latter is typically used to create separated areas, such as offices and storage areas. However, both types are suitable for a wide range of environments, from factories and warehouses to offices and clean rooms.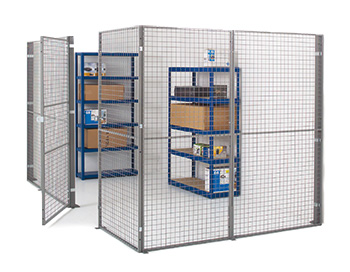 Factories & Warehouses are perhaps the most common environment for the use of partitioning. This is because within factories and warehouses, many types of operations unfold and different types of machinery are being used, so separation of areas can sometimes be crucial. They're also quite popular in these environments because the panels are easy to install, they can be assembled on-site and therefore a new, enclosed area can be built without too much fuss, which means warehouse or factory operations are not disrupted.
Mesh partitioning can also be used as a secure solution for Server Rooms, the panels allowing for total air flow circulation. In addition, mesh partitions can be built around and adjusted to fit any existing installation or any obstacles, which is a great benefit for server rooms. Not only that, but also mesh panels are a far better solution than brick walls in terms of costs and ease of installation.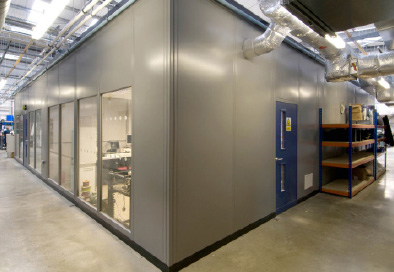 Offices represent another environment where partitioning can be used. Steel partitions are a great way to create separate office area within an open-plan office space. Moreover, if you need to construct an office space within a warehouse or a factory, then double skinned steel partitioning is definitely the quickest and most inexpensive solution.
Double skin steel partitions can also be used for Clean Room applications. When used with proper HVAC structures and air handling methods, the steel partitioning systems can be used as to achieve a class 5 clean room environment. In addition, you can add antimicrobial powder coating to the panels, as well as antistatic or electro dissipative layers.
What can you use mesh and steel partitioning for?
The different uses and applications of partitioning can be easily deducted from the variety of environments that you can use these systems in. However, even within one environment, mesh partitioning and single skinned steel partitioning or double skinned panels can be put to different uses. This high versatility is one of the greatest advantages of partitioning, together with it being a cost effective and simple solution to use of space.
Securing dangerous machinery: Within a factory, it's crucial to allow heavy or dangerous machinery operate in a safely way and having machine guarding systems in place is a great way to achieve that. Modular systems of mesh partitioning are the best solution to that extent, offering visibility and ventilation, easy installation and quick relocation if needed.
Storing flammable liquids: Compliance with the Dangerous Substances and Explosive Atmospheres Regulations within the UK is crucial for warehouse operations and mesh partitions can be used to build secure storage areas for such hazardous substances and other materials that require delicate handling.
Restricted areas: Both mesh and single skinned steel partitioning can be used to restrict and regulate access to certain areas, whether machinery areas, hazardous substances storage or data and server room locations. These systems can have both hinged and sliding doors and you can even fully enclose an area by using a panel roof.
Storage areas: If you need to store certain goods on site and you need dedicated areas for this storage, then mesh panels can do the trick, especially considering their modular system which enables them to be installed to any height. Single skinned steel partitioning can also be used to create a highly secure perimeter for storage areas within factories and warehouses. These systems can be multi-tiered and doors can be supplied as well. In addition, anti collapse mesh systems can be put in place as to prevent object falling off the storage systems.
Office spaces: Some warehouses and factories may require on-site offices for team leaders or warehouse managers to be able to do paperwork or conduct meetings. Double skinned steel partitioning is the best solution for this need, as it offers high quality partitioning that can be sound proofed and fire rated if necessary.
Benefits of steel and mesh partitioning
As noted above, both mesh and steel panels are highly versatile and can be used in a great variety of environments, but also for multiple purposes. This is one of their main benefits, but it's definitely not the only one. These types of partitioning are also a less expensive solution than building permanent wall, regardless of the environment or application. Apart from being cost effective, partitioning is also a flexible solution, because these panels can be easily installed and equally easy to relocate.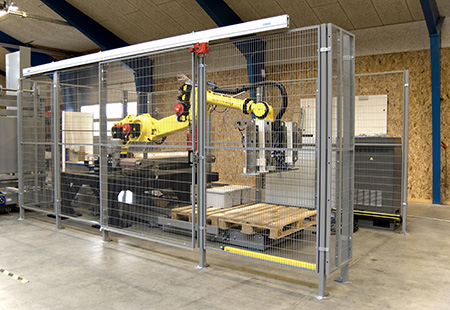 Anti collapse mesh systems also come with the benefit of helping warehouse and logistics environments in general comply with safety regulations for handling and storage of goods, by preventing any risk of spillage from pallets. Mesh panels have the added benefit of visibility, while single skinned and double skinned steel partitioning have the advantage of visual security or privacy.
The Rapid Racking Design team can create the perfect solution for your premises, offering not only a wide range of partitioning products, but also a great array of accessories that will help you build the exact solution you need. Whether you need machine guard partitioning to protect personnel from dangerous or moving components, high panels for storage areas or modular systems for hazardous substance, as well as steel partitioning for secure perimeters, you'll find quality products and designed solutions here. You'll also find a variety of options when it comes to doors, locking systems, construction materials, finishes and other such aspects.
Browse our storage designs