partitioning
Segregate work spaces with Rapid Partitioning
For cost effective partitioning – Call 01285 68 68 69 for a quote today!
We take care of your project from start to finish
We'll provide a drawing with your quote to help you visualise how your system will look once installed.
We recommend the most suitable layout based on your workplace.
Following your approval, the solution will be fitted by our SEIRS registered installation teams.
Trust Rapid Racking
We have been designing and installing Racking & Shelving Systems since 1986 and can help with everything from a few bays of racking to entire warehouse layouts or from a simple layout to a bespoke, complex solution.
Expert and friendly designers with over 150 years of experience combined.
UK's largest stock holding for fast delivery.
Designed with your business's needs in mind
If required, we will visit your site for free to measure up and recommend the best solution based on the size of your space and the way your operation works.
Our design team has the ability to combine the need for quick inbound and outbound operations with cost effective solutions, providing you with a complete quick fix.
Call 01285 68 68 68 today
to discuss your project
Mesh, Steel or Glass Options.
Designers to suit your site.
Bespoke office and cleanroom solutions.
Create offices with all required facilities.
Browse our storage designs
design
solutions
pallet
racking
warehouse shelving
mezzanine flooring
two
tier
stockroom shelving
mobile
shelving
customised design
partitioning solutions
The UK's Top Design Experts
We're proud to have 172 years of storage expertise within our Design team. With a proven track record of designing and delivering fast and efficient storage solutions, you can rely on us to give you the best service and top storage design advice.
Our team covers the entire UK, so wherever you are, whatever your business size or storage need, we can deliver for you.
Book a FREE site visit
Request your visit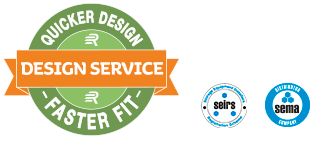 A safe workplace is the best workplace and before considering the right type of shelving and racking and how designed solutions will support your business operations, you should take into account creating secure enclosure to protect staff members from dangerous or moving components. Mesh partitioning is the ideal solution, as it features a modular design and can be installed to any height.
Steel partitioning is also a great investment when it comes to constructing enclosed areas within warehouses and factories. Whether you're interested in single skinned steel partitioning as a cost effective solution or prefer double skinned steel partitioning for a more aesthetical appearance, we have just what you need and with Rapid Racking, you'll be able to benefit from fast site visit and survey, quick design quotation and rapid installation.