Mobile
Shelving
Mobile Storage designed to suit your space best.
We'll visit your site to measure up and recommend which mobile shelving solution would suit your needs best. Conventional shelving layouts provide access to each aisle of shelving which are 'permanent', whereas a mobile system will use less space for permanent aisles, allowing space than extra runs of shelving or free up space for one purpose. If you already have shelving that you'd like to reconfigure to be a mobile system we can often mount it onto mobile bases, condensing the space that it occupies and allowing space for expansion.
Mobile office shelving
Double your storage capacity. For office areas where document storage space is a premium. Custom designed to fit your space perfectly.
Mobile stockroom shelving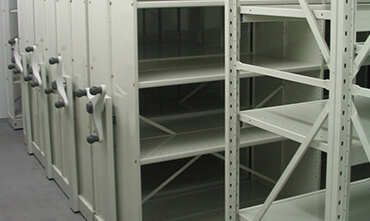 Increase your stockroom storage by up to 100%. For maximum stock holding in stockrooms where space is limited. Custom designed to fit your space perfectly.
Mobile warehouse storage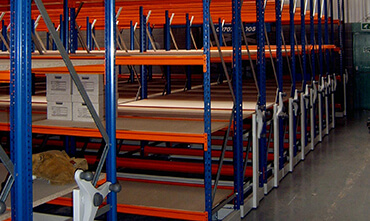 Increase your warehouse storage by up to 100%. Suitable for any type of warehouse shelving or racking. Custom designed to fit your space perfectly.
Trust Rapid Racking
We can increase your storage capacity by up to 100% with our range of mobile storage. Offering custom mobile designs to fit your space perfectly and maximise areas where space is limited.
Expert and friendly designers with over 150 years of experience combined.
Fast to visits, quotes and installation for hassle free ordering.
UK's largest stock holding for fast delivery.
Designed with your business's needs in mind
Mobile shelving systems provide excellent accessibility, regardless of the environment they're used in or the purpose they served, but they can also be closed and locked as to restrict access to goods, if you're storing valuable or sensitive items. Our design team provides complete project management, from site visit and survey to CAD drawings and installation services, employing SEIRS certified installers. Mobile storage is not just about saving floor space and maximising stock volumes when space is limited, but also about quick access to goods and fast retrieval, which have become essential in many markets today.
Call 08000 147 444 today! To discuss your project.
Mobile shelving systems are the perfect answer to your space limitations. They can help you achieve one of two things: double your storage capacity or free up half of your space. For areas with really limited floor space, you can resort to our Rapid move-a-side systems, which provide maximum volume storage in areas with very restricted space. Depending on the front panels and finish you choose, you can use mobile shelving units in office environments, stockrooms and even warehouses.
Our design team has great experience in constructing and configuring bespoke designs as to fit any area or space, whilst answering even to the most specific needs. In office environments, mobile shelving can be designed as to suit document storage needs, while in stockrooms these units can be reinforced as to support heavy loads. For warehouse storage, our team can design mobile systems based on any type of warehouse shelving and racking, so that it can perfectly fit your space and your products.