customised design
Customised Systems designed by the storage experts
Have a solution designed just for you – Call 01285 68 68 69 for a quote today!
Solutions designed by experts
We'll visit your site to measure your space, considering any obstructions and access points when designing your storage solution.
We'll assess the product type, size and weight to be stored so that we can design a solution that will store your items safely.
Custom solutions will be designed using CAD technology so that you can visualise your storage system and layout.
Trust Rapid Racking
We have been designing and installing Racking & Shelving Systems since 1986 and can help with everything from a few bays of racking to entire warehouse layouts or from a simple layout to a bespoke, complex solution. Expert and friendly designers with over 150 years of experience combined.
Fast to visits, quotes and installation for hassle free ordering.
UK's largest stock holding for fast delivery.
Designed with your business's needs in mind
If required, we will visit your site for free to measure up and recommend the best solution based on the size of your space and the way your operation works.
Our design team has the ability to combine the need for quick inbound and outbound operations with cost effective solutions, providing you with a complete quick fix.
Call 01285 68 68 68 today
to discuss your project
Special Racking systems to make best use of space.
Racking arranged by our Designers to suit your application.
Bespoke shelving systems to suit your individual requirements.
Complete custom designed projects installed to schedule.
Browse our storage designs
design
solutions
pallet
racking
warehouse shelving
mezzanine flooring
two
tier
stockroom shelving
mobile
shelving
customised design
partitioning solutions
The UK's Top Design Experts
We're proud to have 172 years of storage expertise within our Design team. With a proven track record of designing and delivering fast and efficient storage solutions, you can rely on us to give you the best service and top storage design advice.
Our team covers the entire UK, so wherever you are, whatever your business size or storage need, we can deliver for you.
Book a FREE site visit
Request your visit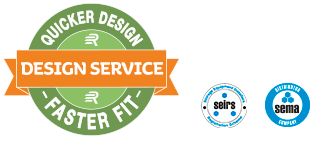 Customised design solutions are all about you and your business. If you need fast inbound and outbound operations, rapid product movement and quick order fulfilment, then you need a bespoke shelving design for your warehouse or storage area. A bespoke design means shelving and racking that not only suits your space perfectly, but has been especially constructed to hold your products, whether we're talking long length items, bulky or strangely shaped products or even coils and other cylindrical products.
The Rapid Racking design team has even created bespoke shelving and racking systems to suit very specific environments, such as particular temperatures, distinguished safety or operational requirements and so on. A customised racking design will ultimately lead to an increase in efficiency and speed of operations and a decrease in costs and even in manual labour.