Build vs buy - The importance of bespoke shelving & racking
Every business is unique. You hear or read this phrase everywhere and each manger, director or CEO will tell you the same about their business. Well, that's because it's true: every business is unique and, what's more important, it has unique needs, especially in terms of storage requirements or, in the case of warehouses and distribution centres, shelving and racking. Due to the fact that one business' premises have a totally different set up than another's, customised shelving and racking design has become very important in the world of logistics and manufacturing, but not only. The storage system that you choose for your business, storeroom, warehouse or DC needs to support the smooth running of your daily operations, otherwise you risk a decrease in efficiency and productivity and an increase in costs.
To that effect, when you are faced with the question of whether to buy off the shelf racking or to build your own customised solution, the answer becomes obvious. The importance of bespoke shelving derives from more than just making the best use of space, although this is a crucial aspect of the process, focusing also on the best suitable layout of the actual racking systems, the compatibility with existing trucks and on future plans for extension. There is also an aesthetic advantage, which for some businesses matters greatly, and this advantage refers to architectural elements in one space complementing each other. Moreover, the relationship between shelving design and function should support all of the criteria mentioned above, from considerations of what will be stored to how frequently the stock will be accesses or whether or not the items need to be concealed.
Maximising the space in your warehouse or storage area is, as said, one of the main benefits of resorting to custom racking design services, as space is almost always limited. Apart from designing a shelving or racking system that will make the most of all the available space in your warehouse, an expert design service will also consider what direction these systems should face so that your loading and picking operations can be performed more efficiently. In addition, if you have already invested in a certain type of lift trucks or automatic handling system of any kind, a custom shelving design will make sure to be compatible with the existing trucks, so that you don't have to make further investments in material handling vehicles. A bespoke design will also help you organise the storage systems as to comply with access ways and vehicles too. For instance, if you've got lorries coming in for loading, then your warehouse racking needs to stop where the lorry backs up into the warehouse.
The process of custom racking and shelving design
Where can you use mesh and steel partitioning?
The process of designing a custom shelving system or racking structure can be quite complex, depending on the size and nature of the project, but it can also be quick and streamlined, so you won't have to worry about time frames. There are 3 main stages within this process, each with its own significance.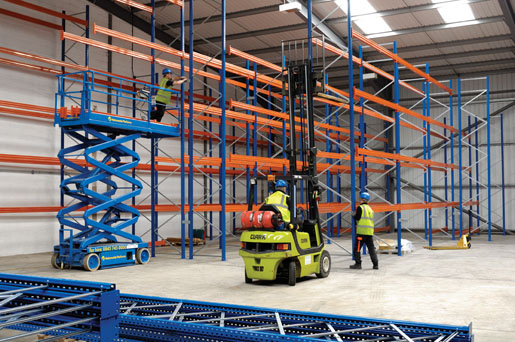 Site visit/survey
Visiting your warehouse or storage area is the first step designers will take. In this stage, the main aspects of storage will be considered: space, products, condition of storage and handling methods. All these considerations will lead to the design team suggesting the best suitable products and systems for your shelving and racking. As already said, the available space will be the first factor to influence the racking design, so that you can benefit from maximised storage areas. However, details of the products to be stored also weigh heavily, as sometimes these may have peculiar shapes or can be extremely heavy. The Rapid Racking Design team has successfully completed a bespoke shelving project for storing bobsleighs, which were not only weirdly shaped but also quite heavy. On a different occasion, the team worked with a company needing to store airplane parts, so stock items ranged from small nuts and bolts to full aircraft wings, which needed racking to support their weight but also balance their shape. These are just few examples of how the details of the items needing storage can significantly influence the design of the racking or shelving that goes into your warehouse or storage area.
By visiting your site, the designers can also assess the external conditions of storage. For example, some storage areas may be located in regions with very low temperatures, even below zero, meaning the shelving units must withstand such extreme temperatures, while others may be placed above water, in which case humidity or dampness must be taken into account, as well as the weight capacity of the floor. One particular project conducted by the Rapid Racking Design team involves storage systems that needed to be set up inside a cave, so in this case lighting implementation became an important factor.
Last, but not least, the site visit is an important first step because it allows the designers to also assess the way in which products are handled. This may not be an issue when you're storing small parts or boxed items, but when you are storing heavy or weirdly shaped products, such as the bobsleigh example above, placing them on high bays or racks would make no sense, as no one could get them down and the examples can go on. A successful shelving design is not just about bays and shelves and configuring them as to maximise floor space, but also about accessibility and understanding how a company operates.
CAD Drawings & Racking Quotes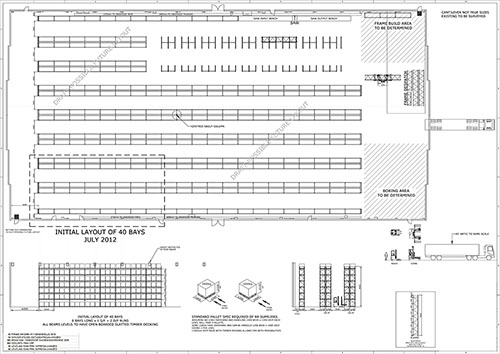 After the site visit, the next stage of the process is creating detailed CAD drawings based on all the factors and considerations discussed and established during the site visit. The drawings will help you get an overview of the project and how the final system will look like. It will also help the design team come up with an accurate racking quotation for your project. CAD drawings can nowadays be done very quickly and you can get your racking quote within hours, which really helps with time efficiency, but although it's a quick stage of the process, it's also an important one.
First of all, having the CAD drawings in front of you, with all the details and measurements will give you a more accurate perspective of the final layout and configuration, which will give you the flexibility to make any last changes if something isn't what you imagined or hoped for. Not only that, but in many cases, several options might be suitable for the same project, depending on its particular requirements, and detailed CAD drawings can be very helpful in choosing the very best suited system.
As far as racking quotes go, having an established budget right from the start can only help, but their great benefit is that they'll allow you to plan ahead. As your business grows or certain circumstances change, you might be facing expansion needs or even relocation, in which case having a starting point for budget and prices can come very in handy.
Delivery & Installation
The last stage of the racking design process is the delivery and installation stage. Obviously, the faster the delivery service, the better, as custom fitting a warehouse with shelving and racking can take some time in itself, without too long lead times on delivery too. On the other hand, when it comes to installation, speed is not your number one criterion. That should be the certifications and experience of the installers. The Rapid Racking Design team has SEIRS certified installers, which is an important advantage. SEIRS stands for the Storage Equipment Installers Registration Scheme, which is a SEMA initiative to raise the standards of health and safety with regards to the installation of storage equipment.
In a warehouse environment, as well as any other type of storage facility, health and safety regulations are crucial and SEIRS is the only industry scheme in place that actually sets a standard as far as safety installation of racking and shelving is concerned. To that extent, having a team of SEIRS certified installers means a huge weight lifted from your shoulder, as you don't have to worry about the proper fitting of your warehouse, the stability of the systems or the safety of your workers.
Cost vs. Value in Custom Shelving Design
Balancing your immediate needs with your business's potential for long term growth can be far more challenging than you think. However, it is paramount for the success of your business. You might be torn between the desire to invest aggressively into long term projects and the conservative approach of reducing expenses. Therefore, the build vs. buy decision translates into a question of costs versus value. Off-the-shelf racking and shelving can be fast and cheap, which are both great advantages, but the lack of customisation can eventually lead to waste of space, time and human resources as far as daily operations go, which is downright inefficient.
As your business grows, so will your storage needs and therefore these inefficiencies will become more and more pronounced, meaning scalability will be more difficult to reach. The earlier in your business's lifetime you assess these trade-offs, the better. However, before making the build vs. buy decision, it might be wise to make sure that this sort of investment actually provides you with a competitive advantage, which can be mostly measured in speed, but also in productivity increase. Another situation in which the value of customised shelving design exceeds the costs is when you're dealing with large premises, as costs can then be spread over a large number of units.
Custom racking design may be more expensive, but the return on investment will be well worth it, especially when you have obscure products on your hands, as many of the examples detailed above. Off-the-shelf shelving and racking solutions cannot meet every need and they definitely can't meet the needs of oddly shaped products, as they're usually rigid and not allow you to modify their functionality. Add to this the fact that your business is a dynamic organisation, always evolving and changing and it becomes quite clear why you need shelving and racking that can adapt and grow with your business, in order to make it more scalable.
Different forms of racking and shelving design
Bespoke racking and shelving, as well as customised storage solutions, can take many forms depending of course of the particular needs of every business. It can be something as simple as putting together the best suitable pallet racking system to maximise storage space or something as complex as designing a combination of mezzanine floors with two tier shelving and mobile racking systems to accommodate storage units and office space within one area, while increasing warehouse efficiency.
Custom pallet racking systems are basically standard systems that have been reconfigured as to accommodate specific pallet sizes or forklift trucks if required or simply to reduce the use of floor space. For unique requirements, this type of bespoke systems can also refer to sourcing custom pallet racking sizes and designs. Similarly, bespoke warehouse shelving refers to shelving designs that maximise storage space, but also help keep your warehouse organised. Having a designated space for each and every part of your stock will help with the smooth running of the daily operations and a custom system will keep everything organised.
Mezzanine floors are another form of bespoke design solution and they can be used both for storage and for office space. They are perfect for creating additional space and making use of the upper floor level. A more inexpensive alternative to mezzanine floors is represented by two tier shelving, another form of customised shelving and racking design. Mobile shelving, carton flow racking, pallet live racking and even mesh and steel partitioning are all on the list of different forms of customised design solutions that can so greatly improve the efficiency and scalability of your business.
Browse our storage designs