Pallet
Racking
We take care of your project from start to finish.
We'll provide a drawing with your quote to help you visualise how your Pallet Racking system will look once installed. We recommend the most suitable pallet racking based on the type of pallet size or forklift trucks you are using. Following your approval, the pallet racking systems will be fitted by our SEIRS registered installation teams.
Adjustable Pallet Racking
Forklift loaded. Direct access to each pallet. Business units, warehouses, factories.
Narrow aisle pallet racking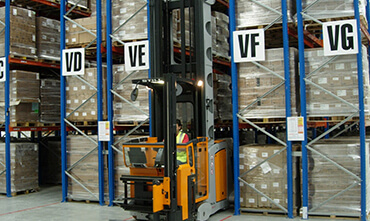 VNA Very Narrow Aisle. High-bay racking. Man-Down or Man-Up order pickers. Warehouses and Distribution Centres.
Drive-in pallet racking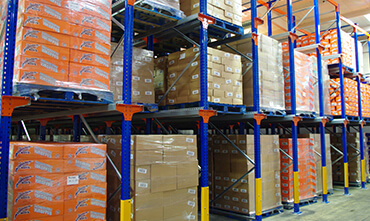 Best use of available floor space. ILO – First In Last Out. Disciplined stock control management.
Galvanised pallet racking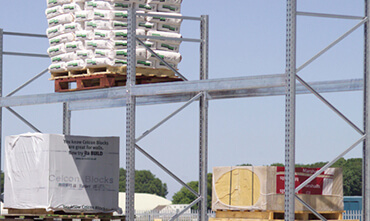 Forklift loaded. Direct access to each pallet. Galvanised beams for durability.
Get the right storage solution faster
with our expert services.

Safe & free visits

Quotations within 2 hours

2D & 3D Drawings

Expert Installation

Rapid
delivery
Trust Rapid Racking
We have been designing and installing Pallet Racking Systems since 1986 and can help with everything from a few bays of racking to entire warehouse layouts or from a simple layout to a bespoke, complex solution.
Expert and friendly designers with over 150 years of experience combined.
Fast to visits, quotes and installation for hassle free ordering.
UK's largest stock holding for fast delivery.
Designed with your business's needs in mind
If required, we will visit your site for free to measure up and recommend the best Pallet Racking solution based on the size of your space and the way your operation works. Our design team has the ability to combine the need for quick inbound and outbound operations with cost effective solutions, providing you with a complete quick fix.
Call 01285 68 68 68 today! To discuss your project.
Our pallet racking design solutions are constructed to respond to various needs and requirements. No two warehouses or distribution centres are alike and having a team of experienced and expert racking designers and installers will help you find the best suitable storage solution not just for your warehouse but also for your specific products. Because there are many different types of pallet racking systems, there are also many different configurations in which racking can be set up as to provide the best suited shelving solution. Our experienced designers will be able to quickly visit and survey your site as to suggest not only the best type of pallet racking design for your particular needs, but also the best configuration.
Whether you're conducting FIFO or LIFO operations, we have the pallet racking system for you. Whether you are hand loading your pallets or using forklifts or whether you're using reach forklift trucks or VNA Man up turret forklifts, we know what the best suited racking design for you is. And, with our rapid delivery and fast installation service, your system can be up and running in no time. In addition, you won't have to worry about safety regulations, as our installers are SEIRS certified.