stockroom shelving
Versatile shelving delivered NEXT DAY
Safely store hand loaded stock - Call 01285 68 68 69 for a quote today!
We adapt basic shelving products to suit your needs
We stock a wide range of shelving sizes, colours, shelf materials and accessories, and will recommend the best product for your stockroom.
The versatility of our products means we can design shelving as tall, wide or unique as you need for your specific regulations.
When planning stockroom shelving layouts, we will visit your site to measure up considering everything from floors level to the position of fire exits and heaters.
Once you are happy with your shelving layout, your stockroom shelving will be fitted by our SEIRS registered installation teams.
Trust Rapid Racking
We have been designing and installing Two Tiers for over 29 years and can help with everything from a single installation through to large, complex projects such as Two Tiers with adjoining Mezzanine Floors.
Why choose us?
Expert and friendly designers with over 150 years of experience combined.
Fast to visits, quotes and installation for hassle free ordering.
UK's largest stock holding for fast delivery.
Designed with your business's needs in mind
Stockroom storage can sometimes be trickier than warehouse storage, because the available space is oftentimes smaller and there is a higher storage density required in a stockroom. Also, typical stockroom operations include more manual product handling rather than automated processes, which are usually the case in larger warehouses. Therefore, the storage systems should reflect these particularities of stockroom operations and storage needs. Our design service aims to deliver exactly that: stockroom shelving systems that perfectly suit your daily operations, supporting fast product movement and decreased manual labour.
Due to the fact that we have a huge range of shelving and racking in stock, all of different sizes, shelf materials and featuring different accessories, we are able to design custom stockroom shelving systems that suit all space layouts and all needs. Our design team makes use of our great stock to put together bespoke solutions for your needs quickly, so that you can have your stockroom up and running in no time. Moreover, your shelving and racking will be fitted by SEIRS certified installers, so you don't have to worry about health and safety procedures or compliance.
Call 01285 68 68 68 today
to discuss your project
Ideal for dense storage applications.
Full range of heights up to 3.6m.
Wide range of widths and depths.
Slim beams to maximise storage space.
Browse our storage designs
design
solutions
pallet
racking
warehouse shelving
mezzanine flooring
two
tier
stockroom shelving
mobile
shelving
customised design
partitioning solutions
The UK's Top Design Experts
We're proud to have 172 years of storage expertise within our Design team. With a proven track record of designing and delivering fast and efficient storage solutions, you can rely on us to give you the best service and top storage design advice.
Our team covers the entire UK, so wherever you are, whatever your business size or storage need, we can deliver for you.
Book a FREE site visit
Request your visit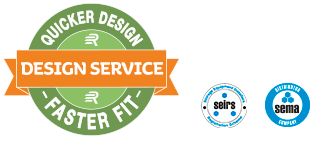 Stockroom shelving is all about speed and efficiency, because stock today needs to move fast as to support rapid order fulfilment. Shelving and racking within a stockroom can take many forms and sizes and your business operations and your products bear a lot of weight in choosing and configuring the right type of stockroom shelving systems. With our design service, you'll be able to benefit from bespoke units and configurations that will suit your specific products and environment.
Whether you need standard shelving solutions or specialist stockroom shelving, at Rapid Racking you'll find a design services that's both quick and comprehensive. You can book a free site visit within 24-48 hours or request your free design quotation within 2 hours. In addition, our quotes include fast delivery and installation, so that your stockroom shelving systems can be up and running in no time.