Racking-inspection
Ensure a safe working environment
Book your Racking Inspection today!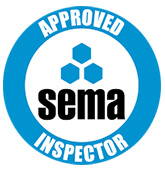 Rapid Racking is proud to be a founder member of the SEMA Distributor Group. SEMA is the British Trade Association of the Storage Equipment Industry. All our rack inspections are carried out in line with SEMA regulations by industry qualified professionals, providing you with complete peace of mind surrounding your rack safety.
Reasons to book with Rapid Racking
We ensure all inspections are carried out inline with SEMA regulations by industry qualified professionals.
Worried about remembering to book your inspection? Leave it to us, we will contact you when your annual rack inspection is due!
Our SEMA approved inspectors will provide you with a full detailed report informing you of any damage or recommendations.
By booking your inspection, a SEMA Approved Inspector will inform you of any damage you may have, meaning you can protect your investment by dealing with the issues and minimising the risk of costly and disruptive accidents.
Do I need a rack inspection?
If you have a racking system, as an employer, it is your responsibility to ensure your working environment is safe. The Health & Safety Executive (HSE) recommends that British warehouses receive an annual rack inspection from a SEMA Approved Rack Inspector.
Failure to regularly inspect and properly maintain your racking can result in fines for non-compliance, injuries in the workplace, unnecessary downtime and expensive repairs due to preventable damage to your racking system.
Legal requirements
Provision and use of Work Equipment Regulations 5 and 6 1998.
Health & Safety at Work Act 1974 Section 2.
Warehousing and storage: A guide to health and safety HSG76.
What are the costs?
Protecting your investment is very important and it's better to maintain and service your racking than take the risk of damaged parts failing to perform safely. Some damage is acceptable and can be monitored, some requires programmed maintenance and some requires immediate offloading of racking. A SEMA Approved Rack Inspector is qualified to identify what actions are required and can help you avoid costly accidents.
If you require further information surrounding rack inspections,
call our friendly experts today! 01285 686868.
Rapid Racking is the UK's largest stockist of shelving and racking for businesses of all types and sizes and leading specialist of racking systems, offering rapid delivery on all orders – free for orders over £99.
Whatever your environment, we provide solutions for every requirement from warehouse racking to factory storage, retail stockroom racking to garage racking – we've got your need covered.
Industrial racking needs to be durable and sturdy for frequent use, which is why we test all of our racking systems according to European standards. Racking systems such as Rapid 1, Long Span Racking, Pallet Racking Cantilever Racking, and specialist racking systems all offer heavy duty shelf capacities and suit anything from hand loaded items, extra-long lengths and palletised stock.
Pallet Racking is a best seller in this category, and is the most efficient solution for palletised stock that can be reconfigured to accommodate your pallet sizes and handling equipment or forklift manufacturer. As standard, we offer standard capacity bays that store up to 9 tonnes per frame, or a heavy duty system that can hold up to 12 tonnes per frame. We partner with one of Europe's leading racking suppliers which means that we can source racking systems that will store a market leading 30 tonnes per frame – you won't find better than that in the UK.
Retail and wholesale racking solutions may require a more versatile solution, such as mobile racking, Rapid 2 medium duty racking, or stockroom racks – typically suited for hand loaded items.
As your business grows or you need to maximise your storage space more, contact our team of expert designer who will create a storage layout that best suits your business and your space, whilst optimising your storage capacity. We offer free site visits within 48 hours so that we can discuss your needs and measure up, ready to draw up the best racking layout for you. Installation by SEIRS registered fitters is also available – call us on 01285 686869 for more details.
Alternatively, if you would like to learn more about industrial racking and what it can do for your business, read through our pallet racking guide.