Industrial cleaning is a service carried out in all types of industrial buildings such as factories, power plants, refineries, warehouses and any other facility generally used for the production, storage or distribution of products. It is the job of any cleaner to be meticulous in their work, but in cases of industrial buildings, special attention could be needed to deal with hazardous materials and the removal of obstructions. This type of cleaning also often covers large areas, both indoors and outside.
Industrial cleaning can be more technical and demanding than standard cleaning because of the level of dirt that frequently accumulates in these environments. In essence, the end goal of industrial cleaning is to ensure a safe, clean and hygienic environment for products, members of staff and anyone else that comes into contact with the facility.
For workplaces that may require advanced cleaning methods, such as warehouses or science labs, a company that specialises in this type of cleaning may be used. By doing this, companies can help ensure their workplaces are safe from any hygiene-related dangers. This can also help businesses to comply with relevant health and safety laws.
What is industrial cleaning equipment?
From clearing up after fires to maintaining safe working environments in factories and warehouses, the processes and equipment required can vary widely from one job to another. Industrial cleaning supplies can be as basic as paper towels and microfibre cloths or as advanced as heavy duty vacuum cleaners and equipment for soaking up hazardous materials. Maintaining an industrial environment involves many considerations, so the tools required will be chosen on a case-by-case basis.
Even for the task of cleaning the floor, there are a lot of options based on the surface that needs attention. Cleaning a warehouse or factory would generally require industrial strength floor cleaning machines for removing all traces of dust and dirt. Sweepers, polishers, scrubber dryers, carpet cleaners and specialist cleaners for sensitive materials could be used for this task alone, with equipment like pressure washers working for flooring as well as walls and ceilings.
Although some of the most basic items that can be used for industrial cleaning are general workplace accessories, the level of expertise required for many of these cleaning tasks means it's often necessary to hire a specialist who has more advanced equipment.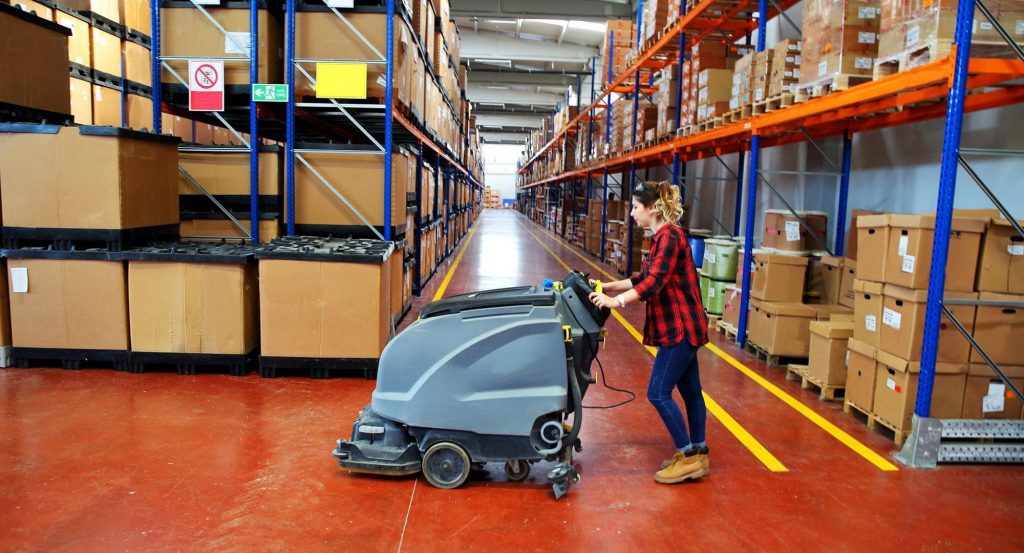 What does industrial cleaning involve?
Industrial cleaning can mean having to go to extreme lengths to ensure every aspect of workplace is clean. For example, it can involve working in extremely hot or cold conditions, carefully cleaning areas that need extra care and attention, or using potentially dangerous pieces of machinery to clean hard to reach places.
Within hazardous environments, duties can include decontaminating work areas, applying cleaning chemicals, sandblasting surfaces, disposing of harmful waste, working in a cherry picker or mobile access platform to reach high areas, using an industrial vacuum to remove all traces of dust, and evaluating an area to alert supervisors to any potential issues after completing a thorough clean.
As well as tasks such as decontamination and the removal of obstructions, this work can extend to cleaning staff rooms, toilets, kitchens, storerooms and various other parts of facilities. Industrial cleaning could be perceived as being a process intended exclusively for the key area of the building being cleaned, but the same level of emphasis should be put on all areas. It's important for specialist cleaners to bear this in mind, as failure to do this could lead to mess or harmful materials finding a way into sensitive places such as toilets, kitchens or staff rooms
In many cases, there are qualifications for becoming an industrial cleaner, which are needed if more attention and consideration is required for the area in question. Specialists who are hired for cleaning sensitive working environments such as construction sites and power stations need to be trained to a certain standard as there are a lot of considerations for them to take into account in terms of safety and achieving the required results.