mezzanine flooring
Increase floor space with a Rapid Mezzanine
Create up to 100% more space - Call 01285 68 68 69 for a quote today!
Each mezzanine is designed and manufactured to suit your needs
We will handle Building Regulations for you so that you mezzanine conforms to relevant safety regulations.
All mezzanine floors are installed by our trained professionals.
We take into account all site conditions such as safety, obstructions & access.
Floors can be fitted with Fire Protected ceilings & lighting below.
We are also able to design solutions for safe access to goods.
Trust Rapid Racking
We have been designing and installing Warehouse Shelving units since 1986. We can help with everything from a few bays to entire warehouse systems or from a simple layout to a bespoke, complex solution.
Why choose us?
Expert and friendly designers with over 150 years of experience combined.
Fast to visits, quotes and installation for hassle free ordering.
UK's largest stock holding for fast delivery.
Designed with your business's needs in mind
We don't just design raised storage solutions, but we also install mezzanine floors, handling all building regulations for you and working with SEIRS registered installers, so that you can rest assured that your new structure is perfectly safe. Mezzanine flooring is the ideal solution to increasing space by up to 100% without incurring the costs of relocation or building new storage facilities. They're also hugely versatile, as you can use them not just as storage space, but also additional office or reception space, display outlet, material handling and automation premises and so on.
Call 01285 68 68 68 today
to discuss your project
Access Mezzanine floors with Goods-Lift.
Create extra floor area for a variety of uses.
Provide additional storage, making full use of building height.
Browse our storage designs
design
solutions
pallet
racking
warehouse shelving
mezzanine flooring
two
tier
stockroom shelving
mobile
shelving
customised design
partitioning solutions
The UK's Top Design Experts
We're proud to have 172 years of storage expertise within our Design team. With a proven track record of designing and delivering fast and efficient storage solutions, you can rely on us to give you the best service and top storage design advice.
Our team covers the entire UK, so wherever you are, whatever your business size or storage need, we can deliver for you.
Book a FREE site visit
Request your visit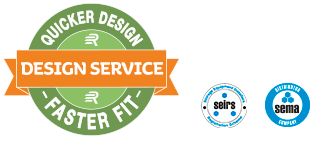 Pallet racking systems are the best when it comes to storing and handling palletised goods, but many businesses have storage areas that simply won't allow or fit pallet racks. Warehouse shelving is the ideal solution for such cases, because it can be configured as to answer the specific requirements of your warehouse or storage area. Best suited for hand loaded items, warehouse shelving systems offer quite the flexibility when it comes to design and they can be configured as to maximise space capacity or to suit particular products, such as bulky items or weirdly shaped items.
Industrial warehouse shelving units can be bought off the shelf as well, but shelving design solutions are preferable because they come to support speed of operations by providing you with the types of racks that will minimise work effort and increase efficiency, leading to faster inbound and outbound operations. Our designers will create customised storage solutions that will meet any requirements and you'll be able to benefit from a fast and expert installation.