Product List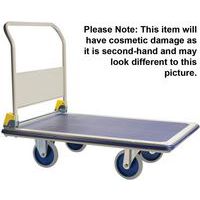 SKU : MIG33680958
Used durable welded steel trolley with a foldable handle
Used durable welded steel trolley with a foldable handle
Fully checked and graded item that may have some minor cosmetic damage.
Non-slip PVC platform surface ensures maximum grip of the load when in transit.
All-round buffer strip protects walls and door frames when the truck is in use.
Welded steel construction.
The quick-release handlebar is foot-operated.
The four tyres are non-marking, with two fixed at the front and two rear swivelling tyres.
This product is currently not available.
{ searchResult: { pageSize: 28, searchTerms: '', totalPageNumber: 1.0, totalResultCount: 1, currentPageNumber:1, attributes: "" } }