Product List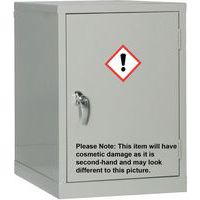 SKU : MIG33681057
Used grey mini COSHH cabinet with one shelf and a leakproof sump
Used grey mini COSHH cabinet with one shelf and a leakproof sump
Fully checked and graded item that may have some minor cosmetic damage.
An inner leak-proof sump catches and contains any hazardous chemical spillages.
Anti-bacterial powder-coating.
Compliant with COSHH, Health and Safety Guide HSG51 and DSEAR 2002.
The chrome door handle has a single-point lock, ensuring only authorised personnel get access to hazardous materials.
The cabinet is made of steel and has reinforced doors.
It is supplied with two keys.
This product is currently not available.
{ searchResult: { pageSize: 28, searchTerms: '', totalPageNumber: 1.0, totalResultCount: 1, currentPageNumber:1, attributes: "" } }