Free Next Day Delivery
on all orders over £299
We will beat any price by 5%
Product Guarantee
& Free Returns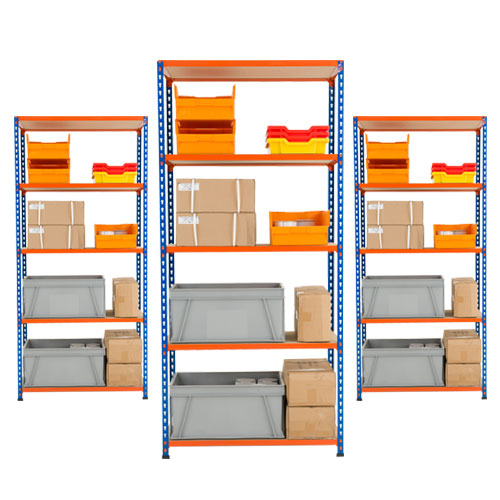 The most versatile shelving in the Rapid Range suitable for almost every environment
3 Bays of Rapid 2 with 5 Chipboard Shelves
Each chipboard shelf has a capacity of 340kg
2mm thick heavy duty structural quality steel construction with a durable paint finish
Slim beam profile maximises storage space
Fast boltless assembly - All you need is a heavy duty mallet available seperately
Adjustable shelves - every 38mm
Available in Blue or Blue and Orange
Tested to FEM - Suitable for daily use in an industrial environment
Warranty : 1
In stock
Delivered tomorrow!
Need a quotation?
Products
Description
Specification
Accessories
Video
Reviews
Product Overview
Products
There are 6 different options for this product
---
---
---
---
---
---
Description
The most versatile shelving in the Rapid Range suitable for almost every environment
3 Bays of Rapid 2 with 5 Chipboard Shelves
Each chipboard shelf has a capacity of 340kg
2mm thick heavy duty structural quality steel construction with a durable paint finish
Slim beam profile maximises storage space
Fast boltless assembly - All you need is a heavy duty mallet available seperately
Adjustable shelves - every 38mm
Available in Blue or Blue and Orange
Tested to FEM - Suitable for daily use in an industrial environment
Specification
| Product Information | Description |
| --- | --- |
| Product Name | 3 Bays Of Rapid 2 |
The most versatile shelving in the Rapid range, suitable for almost any environment.
This product is suitable for: Daily use in an industrial environment
Recommended use
Heavy cartons
Regular picking
Document storage
File storage
Small parts storage
Light boxes
Domestic items
Bulk storage
Wide loads
Colours available
Shelf widths
click here for more details (PDF) »
Product overview
Frequency of use:
Load capacity:
Size options:
Accessories:
Testing & Guarantee: